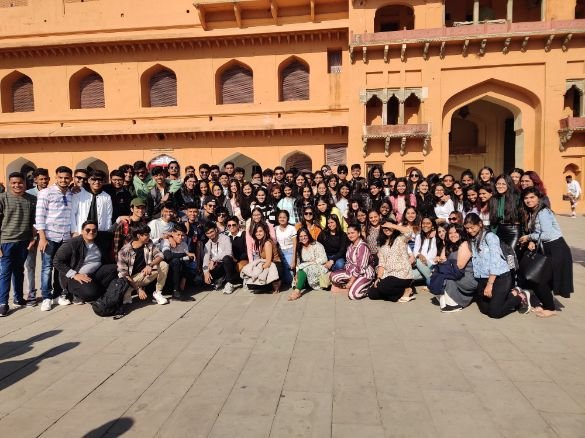 From the moment a study tour is announced students across all classes start counting days and hours backward to commencement of their trip and why shouldn't one not? 
Study Tours are vital in imparting practical knowledge in students along with their academic curriculum. The aim of a tour is to aid the students to acquire basic knowledge of documentation, technical drawings, site analysis, camaraderie and to function amicably as a group. 
An educational tour for the First Year B.Voc(ID) and G.ID students was organized by L.S. Raheja School of Architecture to Jaipur, Rajasthan from 31
st
January, 2023 to 7
th
February, 2023. 
This year, a commercial hotel was chosen for detailed documentation for students under the guidance of Ar. Amit Valsangkar, HOD of Interior Design Department of L.S. Raheja School of Architecture. He was accompanied by ID. Gauri Tondvalkar, ID. Prasanna Pandit, ID. Hemant Jain, ID. Kaustubh Khanolkar, ID. Abhijeet Mulye, ID. Laxmi Prakash. Besides documentation and technical drawings of the hotel, the tour also encouraged visits to significant structures in the city such as Amer Fort and Jantar Mantar. The one-week intense educational program was indeed successful through immense efforts of the students and faculty throughout the tour.
The train journey presented an excellent opportunity for students and faculty to interact and bond out of the four walls of a classroom. The day was spent playing multiple group games and ice breaking sessions.
The main intent of this study tour was for them to learn Interior documentation using various techniques and drafting of plans, sections, elevations, details for the same. The Hotel Renest was selected for this purpose, which was divided into various zones and allotted to different teams. For the purpose of documentation, the class of F.Y.B.Voc(ID) and F.Y.G.ID were divided and organized into different groups as follows: main lobby, reception, restaurant, bar, small banquet hall, conference room, bedroom passage, lift lobby. They were asked to present the final portfolio with technical drawings of the allotted areas which included rendered plan, sectional elevations, floor plan, reflected ceiling plan, perspective sketches. Periodically, review sessions were conducted by the faculty and were being marked for the presented work. The documentation of the hotel took place over four days. Each day they learnt new techniques of measurement that transpired into detailed drawings at appropriate scales. The students along with faculty worked around 12-13 hours per day to complete the documentation within 4 days.
On the fifth day of the study tour a visit to the city of Jaipur was organized. The intent was to allow them to explore traditional and heritage architecture along with contemporary structures. They visited Amer Fort, the architecture of which is a beautiful blend of both Indian and Mughal Style. It is one of the historical monuments that speak of India and it's powerful Rajput kings. It spreads over a hill that overlooks the town of Amer. The structure being located on a contoured site, has integrated the natural levels into the built mass. A sight to sore eyes at the fort is Diwan-e-Aam, Diwan-e-Khaas, Sheesh Mahal. The fort was constructed using precious stones, mirrors, and intricate carvings that harmoniously blended into this robust structure. They captured the influence of this stylistic architecture in Jaipur through photo documentation. They also visited an observatory, Jantar Mantar, the essential purpose of which was to accumulate astronomical tables which in turn would help predict the time and movement of the celestial bodies. The last destination of the day was that of the old city, where everyone was liberated to the beautiful pink city of Jaipur. They moved around watching the sky change into magnificent colours during sunset.
The tour concluded with a site visit to a commercial building complex, which was under construction located near the hotel. Here, they were given a chance to experience and learn what cannot be at times achieved during lectures. Construction of foundation, brick masonry, flat slab, plumbing and how the slope is measured for the flooring purpose, learnt various techniques and the usage to a few tools/instruments were observed and understood at close quarters.
Insights of the study tour:
Objective:
Learn documentation and technical drawings by documenting a hotel in Jaipur.

Visit various structures to understand design, structural members, ceiling layout, floor layout, material used for the structure.
Learnings: The following were the learnings they were able to achieve through the process of the educational tour:
Detailed understanding of planning in respect to the activities performed in a particular space.

Sensitivity towards material usage.

Introduction to contemporary interior.

Understanding of detailed interior drawings.

Surveying and Documentation methodologies.

Team work with time management, a crucial aspect in today's time.

Presentation skills.
While the blog might appear immensely academic and straight arrowed, an adequate amount of dhamaal and bonding was experienced on this trip. Students seemed at ease not only with their peers but lighter moments were genuinely exchanged with their faculty as well. New groups were formed while the old ones got larger with additions, WhatsApp DP's got frequently updated and Instagram reels and stories were posted by dime and dozen. All in all, students were happily hungover as what happened in Jaipur didn't only stay in Jaipur.